Accounting Excellence: Shortlist 'In-House Marketing Team of the Year 2023'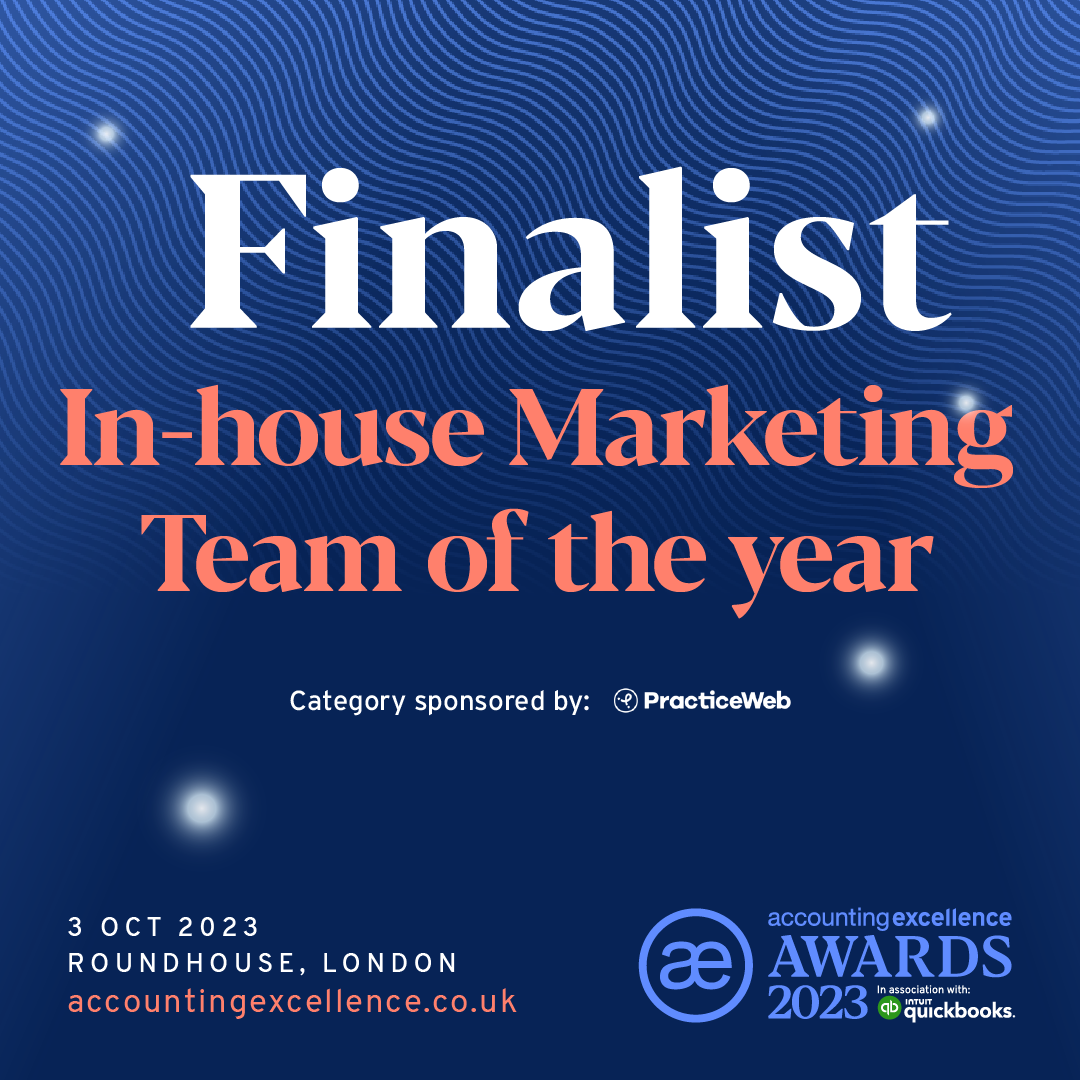 It is with great pleasure and pride that we announce our shortlisting for the 'In-House Marketing Team of the Year Award 2023' at the prestigious Accounting Excellence Awards.
In the ever-evolving world of business, recognition for outstanding achievements is always a cause for celebration.
This recognition serves as a testament to the hard work, creativity, and dedication of our talented team. Join us as we delve into the story behind our nomination and the journey that led us to this prestigious accolade.
Marketing plays a vital role in shaping the success of any organisation, driving growth, and fostering a strong brand image.
At Linford Grey, our in-house marketing team works hard to consistently deliver innovative content, campaigns and strategies that have helped our business grow. Our marketing team members have combined their diverse skills, expertise, and creative minds to connect with our target audience, strengthen our brand presence, and achieve remarkable results.
One of the key drivers behind our success has been our unwavering commitment to embracing innovation. In an era where technology and digital transformation are reshaping the marketing landscape, our team has been at the forefront of adopting cutting-edge tools and techniques to make the 'oh-so-boring accounting content' something to be enjoyed rather than scrolling by and unliking.
By leveraging data, social media platforms, and marketing trends, we have crafted captivating campaigns that resonate with our audience and yield measurable outcomes. Our ability to think outside the box and adapt to an ever-changing marketing landscape has truly set us apart.
Our nomination for the 'In-House Marketing Team of the Year Award' is a testament to the collective efforts of our talented individuals, each contributing their unique skills and perspectives. By fostering a supportive and collaborative work environment, we have created a culture that thrives on innovation, open communication, and mutual respect.
Being shortlisted for the 'In-House Marketing Team of the Year Award 2023' at the esteemed Accounting Excellence Awards is a tremendous honour for our team. It serves as a validation of our hard work, dedication, and relentless pursuit of excellence in the field of marketing and of course, accounting. We believe that this recognition is not just about a single achievement but rather a reflection of the journey we have embarked upon as a team, continually pushing boundaries and raising the bar.
As we await the results of the awards, we celebrate this incredible achievement. The awards evening will be held at the famous Roundhouse in London on 3 October 2023.
Please get in touch with our team if you're looking for an award-winning accountant to look after your books.