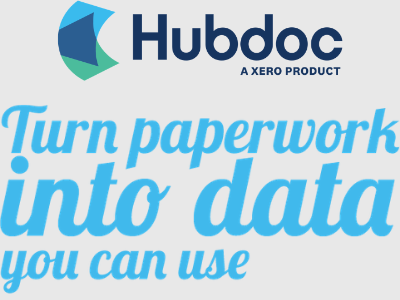 In 2018 Xero acquired Canadian tech company Hubdoc for a record $94 million. Hubdoc was an app partner for four years up to their acquisition and it was originally intended that Hubdoc would continue to be run independently of Xero.
CEO of Xero Steve Vamos said that the two companies were both born in the cloud with a shared vision of delivering innovative solutions for accountants and bookkeepers. As such the two organisations made for the perfect match.
What is Hubdoc?

Hubdoc is a data collection platform that streamlines data collection and entry allowing bookkeepers and accountants to focus on interpreting data not collecting it.
The top 3 benefits of using Hubdoc with Xero:
1. Streamlined data capture
Hubdoc can auto-fetch documents from over 700 utilities, telecom and online vendors and auto-extract the key financial data before pushing it into Xero for approval or payment. Vendors include but are not limited to:
BT
EE
Sky
3
Screwfix
Jewson
Booker
*The list is actually very extensive
2. Real-time financial data
Xero can automatically match data imported from Hubdoc with bank feed transactions so that accountants and clients alike can have an up-to-date set of books (making those pesky bank reconciliations much simpler). Moving everyone one step closer to the Utopia of codeless accounting.
3. Security and Authority
Hubdoc stores all your documents. Everything imported into Xero from Hubdoc links back to the original file in Hubdoc as well. This means your data is always accessible, secure and stored in easy-to-use folders. It's also stored in Xero as an attachment.
Why should we care?

At Linford Grey, we have been using Hubdoc with Xero for around a year. We have seen first-hand the benefit of a centralised data collection point that streamlines data collection and entry on behalf of clients.
It has never been easier for business owners to stay on top of the books which means we have been able to focus our time on how we deliver value beyond compliancy for those clients that have readily gone on that journey with us.
Our largest problem was scaling this auto-magic solution to all of our clients and taking control of the bookkeeping process. Doing so required people to buy into the vision as well as the software. However, this has now all changed and Hubdoc will be free with all standard and premium Xero subscriptions.
Consequently, Linford Grey will be subscribing all of our clients to Hubdoc and asking that they use the software to help them more handily take care of their admin.
Our top three tips for using Hubdoc

1. Only send purchase invoices and if you're snapping those items be sure to get a good shot.
2. Do not send sales invoices or statements.
3. Continue to use Xero Touch for receipts – Hudoc will handle them with ease but in our experience, the reconciliation will be that much quicker if you let Xero handle the one-off receipts and expenses.
What happens Next?
From the 1st of April, all Linford Grey clients will be given a Hubdoc subscription.
We will send you a unique Hubdoc email address that you will use to send your purchase ledger information. If you have online supplier accounts that you'd like Hubdoc to auto-fetch we can also set those integrations up for you.
If this sounds of interest and you're looking for a new relationship with your accountant, why not enquire about our services packages?
You can book a free, non-obligation discovery call with the team as well via our calendar below.